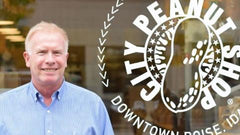 Our Story
City Peanut Shop is located in the heart of downtown Boise and creates small-batch, hand-crafted artisan peanuts and tree nuts, brittles, flavored corns, fresh-ground nut butters and confections. We offer a selection of local beer, wine & cider which pair well with our nuts.  You can also find unique Boise, Bikes and Beer gifts & gear at City Peanut. 
The City Peanut Palate SWEET.  SPICY.  SAVORY.  FLAMING HOT.
Dan Balluff opened City Peanut Shop in downtown Boise after enjoying a high-tech career that took him all over the world.  As a child growing up in the Midwest, Dan's family would visit the classic peanut store in his hometown.  After he moved to Boise his father would visit and they'd hang-out downtown.  His father kept saying "you should open a peanut shop here. Everybody who comes into a peanut shop is happy".  Years later, in the heart of the recession, Dan decided his father was right and left the corporate world for one that was even more nutty.  
It was a gamble.  The classic nut shops were centered mostly in the Midwest, East Coast and the South.  A nut shop was a new concept for the Northwest.  Dan got creative and began roasting nuts in his kitchen.  They were good.  Really good!  And it was fun.  Over the past decade City Peanut Shop has helped establish downtown Boise as a vibrant center for "foodies".  We pay homage to the classic peanut shops of the past, while exploring new territories through collaboration with breweries, wineries, chocolatiers, restaurants  and local craft food makers.   Our peanuts, tree nuts, mixes, corns and chocolates are uniquely flavorful.  Our hand-pulled nut brittles are thin, crunchy and full of nuts.  We especially enjoy pairing our nuts with local and regional craft beers.  
Everything we create is hand-crafted in small batches and absolutely Nut-tastic.  You will find City Peanut products featured on the menus of Boise's finest restaurants, in local pub/breweries/wineries/cider houses/bodegas, etc. You can also find a selection of our products at several stores such as Whole Foods Market Boise, the Boise Consumer Co-op and Albertson's Marketplace Stores. Look for us in local small businesses across the valley.
We love Idaho, Boise, outdoor adventures, bicycling, craft beers and REAL food.  Come visit us Downtown at 803 W. Bannock Street, Boise, Idaho 83702.